EVENTI
ABOUT BALANCE
workshop on the Feldenkrais Method®
with Marta Melucci
Sunday December 4th h. 10.00-16.30 PerForm, via Battisti 26 Trieste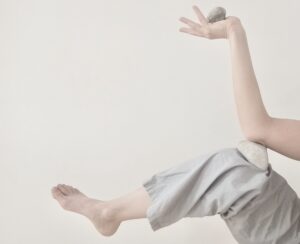 Balance is dynamic. In movements as well as in everyday experiences, being in balance does not mean fixing oneself in one point but harmoniously managing different, sometimes opposing tensions. Being in balance therefore means being mobile or in the words of Moshe Feldenkrais "ready to act in as many directions as possible in space." This involves embracing disequilibrium as an indispensable condition for learning. Through the integration of movement, thought and sensation, the Feldenkrais Method works profoundly on self-organization by improving flexibility, strength and creative ability. By gently and carefully performing unusual movement sequences, one discovers the pleasure of reducing tension and regaining a full sense of self.
The workshop is open to all and aimed at those who want to improve their balance in common gestures such as walking but also in more complex activities such as sports, dance or yoga.
One must lose balance to take a step forward. Garet Newell
Registration: €70 to be paid by bank transfer by November 27th to account: IT77I0200802242000004035272 Marta Melucci. Send receipt to info@martamelucci.com.
Discounted fee at €60 for those enrolled in monthly Feldenkrais and Floorwork courses, students in Feldenkrais Training, students in Fux Method Danzatherapy training, PerForm members.
Places are limited!
Marta Melucci is a certified dancer and Feldenkrais Method practitioner. She holds a degree in Philosophy and works in somatic education integrating her rich experience on movement with her interest in the humanities, the body-mind relationship and learning processes. She teaches courses and workshops for professionals in the performing arts, health and education, amateurs and people with disabilities. She is the author of Lezioni di Metodo Feldenkrais, per un'ecologia del movimento, published by Xenia.